This open house was active from Jan. 22-31, 2021. Information on this website may no longer be current. Email us for more information.
These improvements are the combination of two projects, one being the construction of new sidewalk on the south side of Augusta Lane, between between Pheasant Lane and Chatelain Drive, and the other being a new pedestrian bridge over Beaverton Creek, connecting 178th Avenue and Pheasant Lane.
These projects were identified in local plans, including: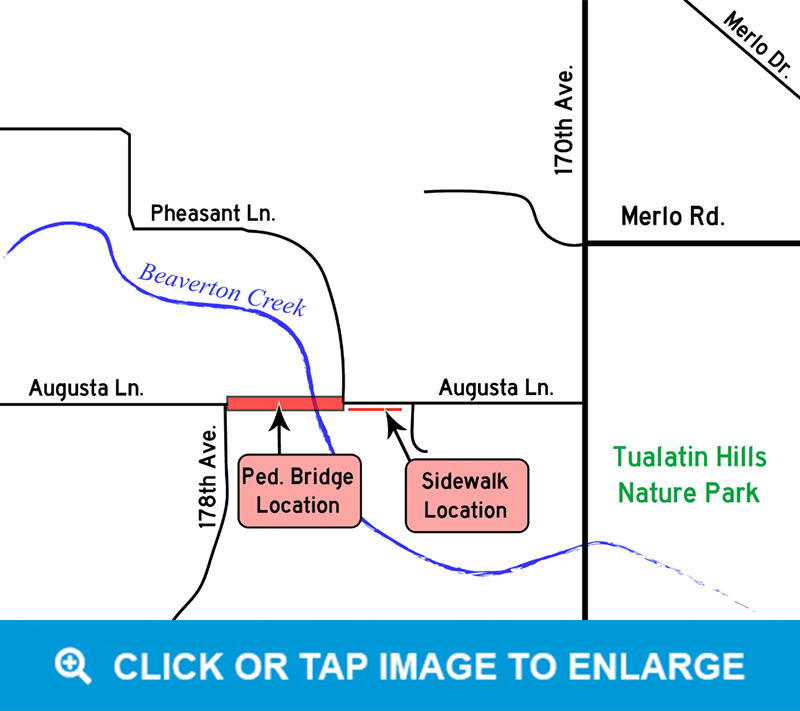 Augusta Lane Pedestrian Improvement Project
The Augusta Lane Sidewalk Project, estimated at $101,000, was selected by the Urban Roads Maintenance District Advisory Committee (URMDAC) for funding through the Urban Roads Maintenance District (URMD), based on public requests for this project, following public comment period.
Since 2011, 62 URMD Pedestrian and Biking Improvement Projects totaling over $33 million have been funded. The public can submit Pedestrian and Biking Improvement proposals. Eligible proposals are added to the Pedestrian and Biking Improvements candidate list, which has more than 200 candidates.
Augusta Lane Pedestrian Bridge 
This project, estimated at $1.5 million, was selected by the Washington County Board of Commissioners for funding through the Major Streets Transportation Improvement Program (MSTIP 3e) in 2016 based on recommendation by the Washington County Coordinating Committee (WCCC), following a public comment period.